As the hero product in the Tara Walker's Dream skincare line, the Rejuvenating Dream Serum® +100 Concentrate is both a stand-alone serum and an ingredient in the five additional products. Packed with 109 antioxidant-rich bioactive botanicals (and free of pore-clogging oils, perfumes or chemical additives), this all-natural beauty elixir features the essences of flowers, leaves, fruits, seeds and stems of plants sourced from every corner of the globe.
Roll over the map above to view our ingredients.

New Zealand
Kiwi Seed Oil: 60% alpha linolenic acid which helps the skin to retain moisture. Rich in phytonutrients, minerals and vitamins C & E. The omega-3 content of Kiwi seed oil can also help address dry skin problems.
Marula Oil: Naturally softens, nourishes and revitalises the skin. High in natural antioxidants has shown to improve skin hydration, smooth the skin and reduce redness.
Ngali Nut Oil: This precious oil from an exotic tree is an excellent remedy for dry skin. It is absorbed easily.
Avocado Oil: This is a rich, heavy but penetrating oil with large amounts of nutritive and therapeutic components. It contains vitamins A, C, D and E, proteins, beta-carotene, lecithin, fatty acids and the 'youth mineral' potassium. Avocado oil is reputed to be beneficial in minimizing the appearance of age spots, healing scars and moisturizing the upper layers of the skin.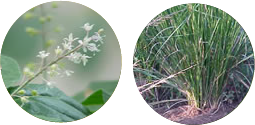 Indonesia
Patchouli Essential Oil: This essential oil can help reduce skin oiliness, soothe irritated skin, reduce redness and the appearance of wrinkles.
Vetiver Essential Oil: Vetiver oil deeply relaxes and soothes the mind and body, while also helping to balance sebum production to comat oily and dry skin.

Phillippines
Elemi Essential Oil: This soothing and conditioning essential oil has rejuvenation qualities, along with the potential to effectively minimize wrinkles.

Japan
Shiitake Extract: This extract helps to improve firmness of the skin.
Thailand
Blue Lotus: A symbol of creation, the sun and rebirth, the lotus closes and sinks under water at night fall, then rises and opens again at dawn. The Blue lotus contains bioflavoids such as quercetin and rutin, which have extensive documentation of their anti-inflammatory potential.

China
Borage: Borage has an extremely high gamma-linolenic acid (GLA) content. GLA is vital for the synthesis of prostaglandin and has the highest known content of essential unsaturated fatty acids. Not only are these unsaturated fatty acids an excellent skin conditioner, they are also great humectants, which help to regulate skin hydration.
Organic Evening Primrose Oil: The evening primrose blossoms in the evening and writhers during the day, this oil - which is extracted from the seeds of evening primrose - is used for its ability to treat sun-damaged skin and to help maintain healthy skin.
Schisandra Fruit Oil: This Schnisandra fruit extract is non-allergenic.
Camelia Oil: Used in the Far East for centuries as a skin moisturizer and conditioner, this highly penetrating and nutritious oil is moisturizing and packed with vitamins and natural antioxidants to improve complexion.
Osmanthus Essential Oil: The most exotic and complex of all absolutes, Osmanthus is a symbol of preciousness and honor.
Coleus Forskohlii Essential Oil: Excellent for acne, skin inflammation and infections, this oil is extracted from the roots of the Coleus Forskohlii.

India
Mimosa: Mimosa can be used for sensitive skin as a conditioner and toner with soothing and anti-reddening effects. It is excellent for greasy skin, giving a warm and relaxing effect.
Rose Petals Absolute: This 'Queen of Oils' is an excellent moisturizer which can encourage regeneration as well as cleanse and tone dry skin.
Watermelon Seed Oil: Also known as kalahari oil in Africa, this rich composition of omega-3, -6 and -9 helps to restore skin elasticity and reduce the size of pores.
Sandalwood Essential Oil: This oil is an excellent skin conditioner for both dry and oily skin.
Spikenard Essential Oil: One of the early aromatics used by the ancient Egyptians. Also used by the Romans and by the Mughal empress in her rejuvenating cosmetics. It helps those with sensitive and mature skin.
Palmarosa Essential Oil: Palmarosa aids skin that is dry and flakey. It helps minimize broken veins and balance sebum production.
Frankincense Essential Oil: This oil is an excellent conditioner and can have a regenerative effect on aging skin.
Jasmine Absolute: Jasmine is the 'King of flower oils'. It can be beneficial for all skin types, encouraging skin elasticity. Its soothing effect is excellent for hot and dry skin.
Champaca Absolute: Considered to be very precious among the Indian flowers, Champaca is an excellent skin moisturizer and rejuvenator.
White Lotus Absolute: The White Lotus is one of the most beloved plants in ancient Egypt and it takes around 1000 flowers to create 1 drop.

Europe
Cypress Essential Oil: Cypress essential oil acts as a vaso-constrictor and can benefit the appearance of broken veins or capillaries.
Echium Oil: Richest natural source of stearidonic acid, which helps maintain the fluidity of cell membranes by helping soothe irritated skin.
Sweet Fennel Essential Oil: Essential oil by steam distillation by crushed seed, which is excellent for dull, oily and mature complexions.
Saint John's Worth Oil: St. John's worth oil is excellent for damaged, bruised or sensitive skin.
Rose de Mai Absolute: This absolute is excellent for dry and mature skin and can be especially effective in minimizing tiny thread veins and broken capillaries.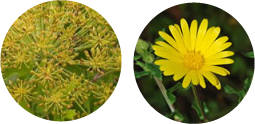 Iran
Galbanum Essential Oil: Galbanum was used in religious ceremonies by the Ancient Egyptians and in embalming. The resin of which, is collected from cuts in the stems of these large plants. This essential oil can sooth reddened scar tissue.
Calendula Oil: Excellent for sensitive skin, Calendula oil can also assist in minimizing the appearance of scars of those who have experienced bad acne.

Israel
Jojoba Oil: Jojoba is a highly penetrative, balancing oil that's good for oily skin prone to breakouts. Helps minimize wrinkles and stretch marks.

Russia
Clary Sage Essential Oil: Clary sage was a highly regarded herb in the Middle Ages. The oil is excellent for oily, sensitive skin, and helps wrinkles.

Turkey
Pomegranate Seed Oil: Each pomogranate contains hundreds of seeds that yield a highly, nourishing liquid wax ester possessing powerful rich natural antioxidants due to its polyphenol content. Good for dry, irritated and aging skin.

Finland
Barley Extract: Traditionally been used for treating dry skin. The active compounds help replenish the epidermal barrier whilst soothing the skin.
Organic Strawberry Seed Oil: Provides the skin with energy, is invigorating and nourishing for all types of skin. Contains high levels of anthocyanins and vitamin C and antioxidants.
Wild White Peat Extract: Originating from the last Ice Age, the peatlands of the Arctic were built up from sweet myrtle cotton grass and other plants, concentrated source of botanical phytoactive ingredients yielding an extract traditionally used to soothe and purify the skin.
Organic Billberry Seed Oil: This oil is an excellent source of essential fatty acids and plant sterols with eseential nutrients regulating skin moisture and sensitivity. Enriched with a natural range of vitamin E isomers, of which tocotrienols and gamma tocopherol are vital antioxidants.
Organic Lingonberry Seed Oil: This is organically certified and natural seed oil, derived from Arctic lingonberries, which is rich in essential fatty acids, plan sterols and antioxidants. It can effectively brighten and hydrate the skin.
Oat Extract: Wild oat is especially enriched with a wide range of bioactive compounds such as vitamins, minerals, functional proteins and lipids that provide comfort and protection.
Wild Cranberry Seed Oil: Growing in the Arctic marshlands, arctic cranberry accumulates tocotrienols in seeds, offering a 3-in-1 kit for nourishing, moisturizing and protecting skin in the most natural way against radicals.
Organic Redcurrent Seed Oil: One of the rate sources of stearidonic acid, gamma-linolenic acid, important omega-3 and -6 fatty acids essential components of skin membrane structures that act together for beautiful and vital skin.
Organic Raspberry Seed Oil: Contains the highest natural concentration of gamma-tocopherol in free form and is an optimal ingredient for protecting the skin from free radicals.
Organic Blackcurrent Seed Oil: Blackcurrant seed oil contains an active omega-6 fatty acid, which is essential for healthly skin. It is needed to build the structure of cell membranes, but also to produce eicosanoids, which are local hormones found in a wide array of biochemical reactions in skin cells. This oil can also effectively help sooth atopic skin, restore fatty acid balance, moisturize and reduce chemical-induced skin irritation.

Bosnia
Sage Essential Oil: Essential oil highly recommended for sensitive or problem skin.

Croatia
Helichrysum Essential Oil: This essential oil is powerfully soothing and highly regarded for its skin-repairing qualities.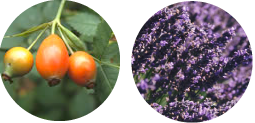 Bulgaria
Organic Rosehip Fruit Oil: Rosehip Fruit contains a high concentration of valuable unsaturated fatty acids, carotenoids (Vitamin A) along with a rare concentration of unsaponifiables, which include sterols and Tocopherol (Vitamin E).
Lavender Absolute: Calming and soothing, this absolute can help skin that suffers from complexion problems. Lavender absolute is also excellent for oily skins, helping to normalize the secretions of the sebaceous gland.

Germany
Organic Carrot Root Oil: This oil contains a high concentration of natural carotenoids that have antioxidant, radical-scavenger.
Organic Millet Seed Oil: In cosmetic application this oil helps reveal new skin cells. Millet seed oil can also lead to bright and healthy skin by assisting active skin repair.
Chamomile Flower Essential Oil: With its high percentage of azulene - a fatty aromatic substance which is extremely soothing - Chamomile flower essential oil helps promote the rapid resolution of skin problems. This substance is not present in the flower, but is formed during the distillation of the oil.
Seabuckthorn Pulp Oil: A unique source of omega-7 palmitoleic acid, a part of skin lpids, and is recommended for treating damaged skin. The anti-oxidative tocopherols in the oil, which are synergized by carotenes for quenching active oxygen species, also make the pulp oil suitable for pre and post sun treatment.
Wheat Bran Oil: Derived from the golden germ of the wheat. It is extremely high in vitamin A, B1, D, lecithin, protein and unsaturated fatty acid compounds along with an even higher amount of vitamin E.

Netherlands
Carrot Seed Oil: Carrot seed oil is excellent for prematurely ageing inflamed or scarred skin and can help minimize wrinkles and scar tissue.
Spain
Rosemary Leaf Essential Oil: In many civilizations rosemary was considered sacred. It is good for plem skin conditions.

France
Plum Kernel Oil: Pressed from the kernals of the plum fruit, this oil is rich in antioxidants, unsaturated fatty acids and vitamin E.
Labdanum Absolute: A calming absolute that helps to fortify skin and improve the complexion.
Violet Leaf Absolute: This absolute is superb for its ability to treat most complexions and can help refine the pores.
Camelina Oil: Also known as 'gold of pleasure', contains high levels of omega-3 fatty acids, natural antioxidants and vitamin E. Helps soften dry skin, acne scaring and improve skin elasticity.
Squalane Oil: Replicates the properties of the natural protective barrier found on the skin. It helps the skin to replenish itself and restores the body's own moisture by regenerating its protective moisturizing barrier. This essential oil contains anti-inflammatory and tonic properties.
Elderflow Absolute: Extracted from the flowers of the small tree, Sambucus nigra - which grows wild throughout Europe - this absolute is a gentle stimulant and high in astringent tannins, which can be used for skin firming and toning.

United Kingdom
Hemp Seed Essential Oil: Hemp contains proteins and high quality fat and the oil is excellent for dry or mature skin with its apparent ability to help stimulate skin renewal.

Ghana
Mafura Oil: The oil is extracted from the seeds of the trichilia tree rich in essential fatty acids. SHown to have beneficial properties due to the presence of limonids such as Trichilin A, it has also been shown to scavenge free radicals more effectively than many other oils.

South Africa
Baobab Seed Oil: High in vitamins A and C, this healing oil helps to preserve skin elasticity. It can also soften wrinkles, diminish the look of blemishes or scars and can calm irritated or sun damaged skin.
Marula Oil: Naturally softens, nourishes and revitalises the skin. High in natural antioxidants has shown to improve skin hydration, smooth the skin and reduce redness.
Ximenia Seed Oil: Has been known to effectively treat dry, ageing skin by increasing moisture levels and improving the sebaceous balance.
Mongongo Seed Oil: This oil contains high levels of vitamin E (tocopherol), linoleic and eleostearic acids, which help protect the skin. It can be effective not only for hydrating the skin but also for restructuring the epidermis.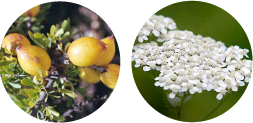 Morocco
Argan Oil: Used for centuries by Moroccan women to help moisturise and revitalise their skin, this smoothing emollient is extracted from the fruit of the argan tree and is naturally rich in essential fatty acids and vitamin E.
Yarrow Essential Oil: Can be used to help clarify complexions by cleansing and stimulating the skin while also helping to close large pores and imrpove its texture.

Tunisia
Neroli Essential Oil: It is thought to be named after a Princess of Neroli. Also known as bitter orange oil, this floral scented oil comes from orange blossoms; 100kg of blossoms are needed to produce 1kg of oil. Neroli is therapeutic oil with uplifting and restorative properties. It helps rejuvenate and regenerate the skin to help prevent scarring.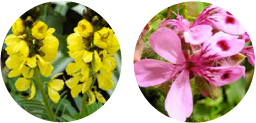 Egypt
Cassie Absolute: Obtained from the flowers, it's a very valuable and scarce absolute. Cassie boasts an incredibly calming effect.
Geranium Essential Oil: An ancient ingredient, which is known for its potential to balance sebum levels and correct sluggish, congested and oily skin.

Somalia
Myrrh Essential Oil: The myrrh is produced from the tears that are exuded by bark when it is scarified. These gummy substances are collected by hand, which is why this material is so rare and precious. It was used in ancient civilizations as highly valued ointment for wounders and extremely dry skin.

Uganda
Hibiscus Sabdariffa Oil: This seed oil is a rare concentration of unsaturated fatty oils and phytosterols, which help soothe and moisturize the skin.

Kenya
Cape Chestnut Oil: Extracted from the seed of a beautiful African forest tree, this oil is high in palmetic, oleic, linoleic acid and antioxidants.

Tanzania
Moringa Oil: Rich in vitamins and proteins, Moringa oil has nourishing and emollient properties, similar to olive oil. It is a natural potent antioxidant.

Comores
Ylang Ylang Essential Oil: Ylang Ylang is extremely effective and calming.

Brazil
Babassu Nut Oil: Prized in South America for its superb moisturizing ability, Babassu Nut oil is a superior emollient that's beneficial for both dry and oily complexions. It gently moisturizes and penetrates the skin quickly without leaving an oily sheen, and is often used to treat reddened, itchy, dry and inflamed skin.
Passion Fruit Seed Oil: Passion fruit seed produces a light, soothing and relaxing oil, which leaves a natural, soft feel to the skin. The oil locks in moisture while the free radical scavengers and antioxidants provide deep nourishment to the skin.
Rosewood Essential Oil: This comforting and warming essential oil has a soothing effect on the skin with a luxurious soft aroma.
Brazil Nut Oil: Excellent moisturizer and emollient. It helps keep skin soft, smooth and hydrated with the added benefit of powerful antioxidants such as alpha linoleic, oleic acid and physterols. Extremely rich in proteins and vitamins A and E.
Acai Oil: An excellent source of essential fatty acids such as linoleic acid, omega 3, 6 and 9 with the highest levels of antioxidants than any other fruit or vegetable on earth. Acai Oil helps combat the ageing process with its potential to impart a nutritional healthy aspect to the skin moisturizing and repairing the skin.
Andiroba Oil: When Adiroba fruits from the Brazilian Amazon Rainforest fall from the trees, the Amazon carries them towards the sea and in turn are washed to shore. The local native gathers them to dry in the sun before pressing out the oil. This exotic oil is rich in phytosterols and is used for its skin soothing properties, potential to reduce puffiness and swelling of the skin.
Annato Seed Oil: The seeds of the annatto shrub produce a wonderful oil which is a rich source of antioxidants, carotenoids (Vitamin A), (bixin and norbixin).
Buriti Oil: Containing the highest natural occurrance of pro-vitamin A (carotenoids), this oil helps to rebuild and hydrate new skin cells. Vitamin E (tocopherols) and antioxidants can moisturize and re-hydrate. Unsaturated fatty acids can also help rebuild and hydrate new skin cells with the added potential of soothing sun-damaged skin.
Copaiba Oil: The tree produces a resin known in the Amazon as a treatment of various skin disorders. Copaiba shows a rich content in Caryophyllene, known for its anti-inflammatory properties.

Paraguay
Petitgrain Essential Oil: This oil comes from the same tree as Neroli oil but distilled from the leaves and buds rather than petals of the orange blossom. Petitgrain relaxes, restores, cleanses, and uplifts the spirit.

Chile
Roseship Seed Oil: Extracted from the ripened fruit of a hybrid, thorny, wild rosebush. This healing oil is said to regenerate the skin and counteract the look of ageing.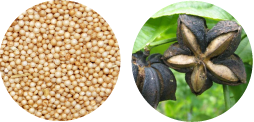 Peru
Amaranth Seed Oil: This incredible oil consists of squalene, a natural moisturizer that is quickly absorbed by the skin. Additional benefits include calming and antio-oxidative and properties. It us used especially for dry, sensitive and atopic skin with the added potential of promoting healthy cell membranes to help combat the effects of skin ageing.
Organic Inca Inchi Oil: This nourishing oil is a natural legacy from the ancient Inca civilizations of Peru, and has been a carefully guarded secret until recently. It is particularly rich in Omega 3 fatty acids so this emollient oil can help to soften and improve the lipid balance of the skin.

USA
Apricot Kernel Oil: Delicate, moisturizing and fast absorbing oil, can improve rough and scaly skin by repairing the skin's elasticity and lipid barrier.
Broccoli Seed Oil: Great moisturizing properties.
Blueberry Seed Oil: This oil is one of nature's most potent antioxidants.
Black Raspberry Seed Oil: 15lbs (6.8kg) of this fruit contains just enough seeds to make one tablespoon of oil. It is extremely rich in antioxidants and phytonutrients, which are nature's most potent antioxidants.
Blackberry Seed Oil: Blackberry seed oil possesses a unique combination of antioxidants and essential fatty acids. It is a natural source of Vitamin C, which can help combat wrinkles, blotches, large pores and other skin blemishes.
Meadowfoam Seed Oil: Meadowfoam seed oil moisturizes the skin in ways no other oil can. It helps revitalize dry skin by helping to retain moisture and boasts the highest content of essential fatty acids (98%).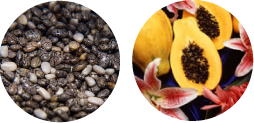 Mexico
Chia Seed Oil: High in Omega 3 and 6 acids, Chia seed oil is useful for treating sensitive, dry and scaly skin. It helps maintain moisture, supports the skin membrane function and can be effective in addressing wrinkles, atopic dermatitis and impure skin.
Papaya Seed Oil: High in Omega 6 and 9 essential fatty acids, Papaya seed oil boasts superb exfoliating, soothing and softening properties deeply moisturizes the skin.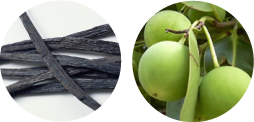 Tahiti
Vanilla Extract: The familiar rich, warm scent of vanilla comes from the seedpods of a plant from the orchid family. Vanilla is calming and relaxing. The flowers are pollinated by hand and then, once harvested, the seedpods are carefully cured for around six months to produce the distinctive odour. It is this laborious process that makes vanilla so expensive.
Tamanu Oil: Cold pressed from the nut of the Tamanu tree, this oil has been noted for its ability to help protect the skin against sun-induced dryness.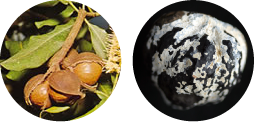 Hawaii
Macadamia Nut Oil: This oil has a superb moisturizing quality, which absorbs quickly into the skin. It can benefit damaged or mature skin by supplying it with vital nutrients and moisture stabilizers that are not naturally produced by the body.
Kukui Nut Oil: This is a highly penetrable and soothing oil, rich in essential fatty acids which are similar to skin lipids having excellent moisturizing and restructuring effects on the skin.